You remember my airplane ears post a couple of days ago, right? Well, there's even more from this session when it comes to bad photos of me! Want more outtake silliness? Let's proceed.
I can't believe she didn't delete this one because it looks like I'm about to chomp on her hand! But of course, that is something I would never do. Maybe her hand just smelled weird. All I know is that while I was willingly offering my paw, my face tells something different.
From what I can tell here, I was making happy paws (which is why you can only see half of my right front leg), and giving a raspberry at the same time. What can I say? Multitasking is hard.
I spent a lot of time rubbing my face on and head butting this tree. I certainly look like I'm taking it seriously, don't I?
Yes, I have one ear cocked. Yes, I look a bit grouchy. And yes, I am making happy paws. You figure it out.
And… that's the end of today's outtake silliness! Which one make you smile the most? Let me know in the comments.
* * *
---
---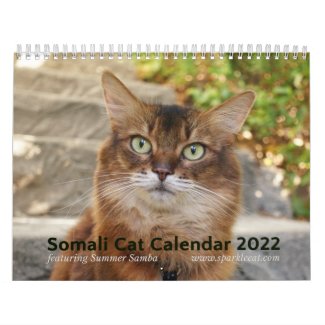 2022 Somali Cat Calendar Starring Summer Samba
See all of Summer's merch at her
her Zazzle Designercat Shop