I have some fun photos for you today! Not all of them are bad, or outtakes. Some of them were just taken off the cuff. Like the above photo. In spite of being poor quality because of the selfie setting on the iPhone, it's kind of cute! I like to lie down behind my human while she works at her desk. Sometimes I do it with my paws hanging off the edge of the seat. This photo is me doing just that.
On the other paw, this one is definitely an outtake! When my human came back from voting at the beginning of the month, I was in her office chair, so she put the "I Voted" sticker on me for a photo op. A nicer looking pose wound up on her Facebook and my Instagram, but there was also this one.
And here is this pretty photo of me looking out to the back patio. My human saw me there one morning, and snuck up and grabbed a pic. She has to sneak up because if I know she's there, I'll look at her and get up. I'm afraid I'm not that good at candids.
Here's an outtake from my studio shoot this week. As she often does, my human was trying to get a photo of me sitting up. And as always, she got a photo of me looking goofy instead.
And lastly, here I am, trying to chew on my grooming comb! I hope you enjoyed these outtakes and extras! Let me know in the comments which ones are your favorites.
* * *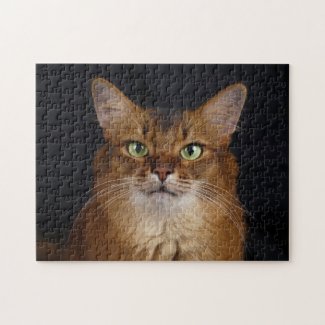 Somali Cat Photo Portrait Jigsaw Puzzle
See all of Summer's merch at her
her Zazzle Designercat Shop