The weather is finally cooler this week, so I got to spend time outside. I even got to model some Halloween outfits! It was too hot to wear these last week.
When my human put on this cute Halloween dress, I purred and started striking poses right away.
This dress with the flouncy skull skirt was fun to wear too.
My human wanted a nicer background, so she put me on the bridge.
The only fail was this devil costume. Yes, I have three different devil outfits (that's not counting the one that's a size too large for me). And just one angel costume. What's that all about?
Because it was old and sitting around somewhere, the horns and wings were all askew and bent, and nothing my human did could set them right. Plus the hood was too small, even for my tiny head. Oh well! At least the dresses were nice.
* * *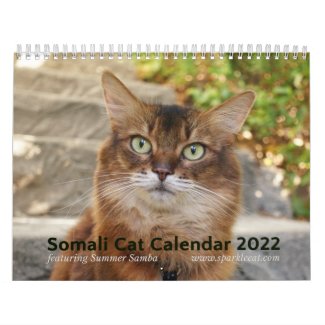 2022 Somali Cat Calendar Starring Summer Samba
See all of Summer's merch at her
her Zazzle Designercat Shop