I have been a very busy kitty lately! Since it will be a few weeks before I have another cat show to attend, my human has been taking me out more. Yesterday's trip was really important — it was to the vet clinic to get my therapy cat health certificate filled out!
On the way there, we stopped at the pet store for a few things.
We couldn't stay very long, since we needed to be on time for my appointment, which was a bummer. I could have hung out on the cat trees for hours!
Back at the house, I visited with Smokey through the screen. It got torn up by some mean neighborhood cat, so she doesn't get the door open very often anymore. Yes, Smokey is still living in our upstairs area and she still needs a home!
I also went downstairs and visited with my human's boyfriend. I like being social!
And yes, I jumped up on this air conditioner condenser all by myself! It's not much higher than the kitchen counters I'm not supposed to be on.
* * *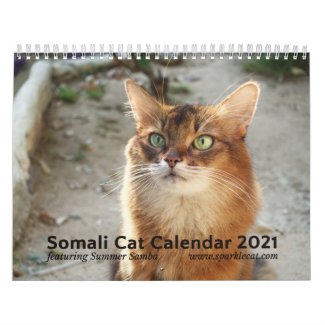 2021 Somali Cat Wall Calendar, Starring Summer
See all of Summer's merch at her
her Zazzle Designercat Shop