Finally, my human finished decorating the Christmas tree! It only took all week for her to get it done.
It's 7-1/2 feet tall, not counting the topper. We used to have one that was a foot shorter, but my human has so many ornaments that it was hard to find space for them all. So she gave the old tree to Goodwill and got this one. How would you like to know the stories behind some of the ornaments? My human has kind of quirky taste when it comes to Christmas decorations.
This is one of the oldest ornaments my human has. She doesn't have anything from her childhood. Her ornaments start after she was a grown-up and had her own tree.
This ornament, and a bunch of others came from Sav-On, which later became CVS. They used to have some really cool vintage style ornaments, and my human collected them over the years. They are fragile, but only two of them have broken (one was this year, actually).
This is actually from the first box of the Sav-On ornaments. It's so old that the ribbon and the feathers inside the ornament have faded and lost color. My human doesn't even remember what color the feathers were now.
This ornament is a special one, because my human got it for her first Christmas in the first home she bought. If you look closely, '96, the year she got it, is carved in the snow. That was when she had her soul cat, Harlot.
Some ornaments she got because they were beautiful.
Others because they were hideous! Like this cheap, badly painted angel ornament. This photo does not do justice to the bad paint job and cheap plastic. And there are actually two of them!
This ornament was so odd that my human had to get it. I mean, who makes an ornament full of miniature gambling things? I think it was the slot machine that really sold my human on it.
There are actually a lot of ornaments on the lower branches. That is where my human puts all the non-breakables. You know, metal ornaments, plastic ornaments, wood ornaments, those hideous angel ornaments., etc.
My human is also a fan of anything from the 1890s through the 1920s, so if she ever comes across ornaments of items from that era, she gets them. Like this old-fashioned wooden car.
She's especially fond of this organ grinder and monkey.
This is another very special ornament. My human got it from Bat Conservation International, a big group that helps and advocates for bats.
You were probably wondering where the cat ornaments were! Well, my human has lots of those too.
This kitty, and the one above, are part of a trio my human found… yes, at CVS! It was many years ago.
This is one of the oldest cat ornaments. It's a jack in the box, only it's a cat.
Too bad whoever painted this cat ornament messed up the eyes! But maybe that's why my human got it.
This pair of trouble-making kitties are part of a series of ornaments from about 20 years ago.
Here's another one. You know my human looked for these every year!
This ornament summed up my human's life at the time: it had something musical in it (since she was a rock journalist), and a cat, and the cat was getting into trouble.
Every time my human sees any ornaments on display somewhere, she looks for ones with cats. Often she finds them.
My human went online and got a few more cat ornaments this year. This one, of a cat knocking over a poinsettia plant to chase a bee, is her favorite.
And, of course, you've seen this angel and kitty ornament. Have you entered the giveaway yet, that includes the extra?
I hope you enjoyed seeing some of our ornaments, and you did not get too bored!
* * *
---
---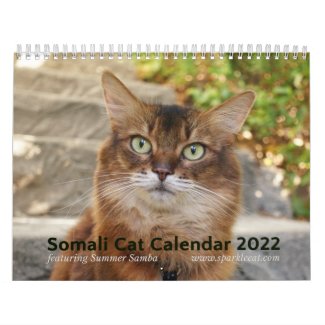 2022 Somali Cat Calendar Starring Summer Samba
See all of Summer's merch at her
her Zazzle Designercat Shop