On my last few visits to this hospital, I've been able to make therapy cat visits to both floors where we are supposed to see patients. This time, the first wing we stopped at was full! There were so many patients that my human and I never made it out of that one wing for the whole 90 minutes we were there.
The very first patient I saw was a pretty lady with a headscarf who sat up when we walked in. She was delighted to see me. It took me a few minutes to settle in because I'd just arrived, but soon I was making happy paws and purring. She kept calling me "sweet pea." That was nice. The next lady was a little sicker, so she didn't sit up like the first one, but I was more than happy to snuggle with her. She told us about her little dog, who is the same color as I am. She also told us her son is a cat person, and loves them even though he is allergic. As chatty as she was, the next patient — an older woman with a head of short, curly gray hair, was quiet. She silently petted me for a long time.
Usually it's pretty typical to see about this many people in one wing before going to the next. But this time, lots more patients wanted to see me. One patient was sleeping, but his family all wanted to see me and pet me. The next patient was an older, Spanish-speaking woman surrounded by family. She was not only awake, she held out her hands for me! While I visited with her, her daughter told us how happy she was that hospital had us volunteering. The patient has a little dog at home that she misses lots. The doctor wanted to come in, and even though he waited patiently, we didn't want to hold him up, and we went to the next patient.
Although I really enjoyed all the patients, I think the last one may have been my favorite. It was a man who was probably in his 40s and he was so happy to see me! He took several photos of me with his phone to send to his wife. He also told us about his cat at home. The cat's name was Lola, and he said she was fun and playful and he obviously loved her a lot. A male nurse came by to take him away on a gurney for tests. He was getting rolled out as we left. My human and I were both a little tired when we were done, but it was a good tired!
* * *
---
---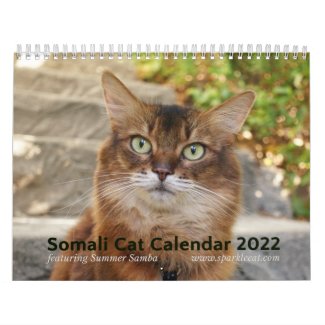 2022 Somali Cat Calendar Starring Summer Samba
See all of Summer's merch at her
her Zazzle Designercat Shop