When I go on my therapy cat visits to the hospitals, I really like lying down with the patients and giving them my happy paws and healing purrs. This time, it was a little bit different because most of the patients were either sitting up, or I wasn't able to lie on the bed for one reason or another! It was still really nice, though.
We had another team today, a dog I have worked with before named Jake. Just to make sure all the patients were covered, we visited different floors and then switched. The first patient I saw on my floor was an older lady who was sitting at the little table they have in the rooms. Fortunately, there was no food and a lot of empty space so I could be on the table to visit. I almost didn't get to see her — the nurse had to check to make sure I wasn't a danger to her healing. But the doctor said I was okay. And that was great because she loved me, and she is a big cat person. She recently lost one of her cats, in fact. She told me the story of how her son had brought that cat, and his sibling, home when they were kittens.
The next two patients were Spanish speaking, but that is getting to be less and less of a problem. After all, if people love cats, they all speak meow! The first patient was a man who was going into surgery in a little while. His family didn't think it was a good idea for me to make myself at home on his bed, but they were delighted to see me and pet me. The patient petted me too. This is just a lesson to not take a "no" literally and just leave. There are often workarounds, and you can usually tell when that's the case. The second Spanish speaking patient also had visitors, and he was a happy and cheerful guy. We only stayed for a little while. His wife asked my name and when my human said Summer, she told her husband my name was "Verano…" "Si, en inglés," said my human. She was so proud to show off she understood!
Finally, when we moved up to the other floor, I got to spend some quality time on the bed with a patient. It was a senior woman, and she was delighted that I gave her my healing purrs and happy paws. I was so happy that I curled up with her, and would have napped with her if we hadn't had to go visit other patients. The last woman I saw didn't even want to see me at first! She said she and cats didn't get along. My human smiled and said, "That's fine if you don't want to see her, but Summer isn't like other cats." The woman motioned us into her room, and petted me and could see how sweet and gentle I was. That's one of the side benefits of my work — showing humans who don't like or are afraid of cats that we can be really nice too!
* * *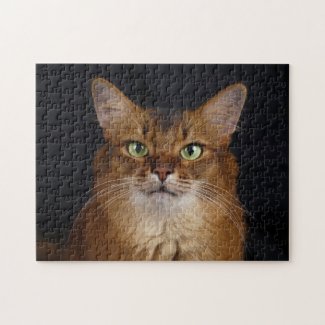 Somali Cat Photo Portrait Jigsaw Puzzle
See all of Summer's merch at her
her Zazzle Designercat Shop