Okay, so I live in an old house and things break pretty often. But this time it's just too much for me! One of my props broke!
A big chunk fell out of my concrete table! My human and I noticed a crack there a few days ago, but we had no idea this was going to happen.
I bet you are wondering what happened to the missing chunk.
It rolled over here. In fact, my human and I found the chunk before we saw where it came from.
I tried to make it better, but it didn't work. Someone my human knows says it can be fixed, and a Google search she did agrees with him. I really hope so!
Either that, or maybe she can replace it. I bet she could get a new one for only, oh, double the price of a cat tree. Hm, maybe I'd rather have a cat tree.
* * *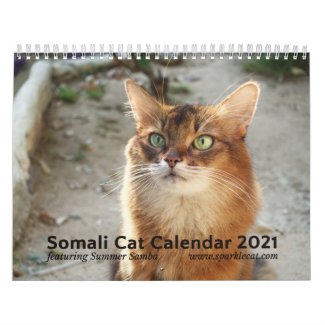 2021 Somali Cat Wall Calendar, Starring Summer
See all of Summer's merch at her
her Zazzle Designercat Shop