Sick of It All
For the past few weeks, my human has left out a small paper bag as a toy for me. I've had loads of fun with it, as you may have noticed from previous diary entries. And sometimes I even sit on it, just because I like to hear it crinkle.
But then Binga got into one of those weird fits she has on occasion and she destroyed it.
The month only went downhill from there. My human's boyfriend took Boodie away, supposedly to "have her teeth cleaned," and then he came back with a Boodie impostor! I was furious. The humans tried that once before, so they should have known they couldn't fool me. I screamed at the fake Boodie and chased her under the bed and wouldn't let her come out.
My human tried tricking me into believing this fake Boodie was real by putting vanillia all over all us cats. She figured that if we all smelled alike that maybe we'd get along. It didn't work. Who wants to be friends with a cat that smells like pound cake? She should have tried catnip instead.
Then after a week of that stress, I got sick so my human had to take me to the vet. My human stuffed me in the little carrier this time. It was awful. I had to stay at the clinic for hours while they took tests and when my human came to get me, they gave her pills I had to take for two weeks.
In a lame attempt to make me feel better, my human got me some fuzzy rattle balls. I was not impressed.
She tried to show me how much fun they were by tossing them all over the rug, thinking that I would chase them. As if.
Even Binga thought she was foolish.
Then my human got the wacky idea that I might like them better if she tossed them into her step risers. I am beginning to wonder about her mental health.
Only slightly better was the bat-nip mouse she got me for Halloween. At first I thought it was going to be another dud.
Then she started tossing it around. I had no desire to chase it, but I did like watching her throw it in the air. Maybe she is a wannabe cat.
* * *
---
---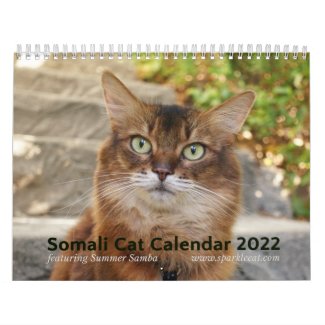 2022 Somali Cat Calendar Starring Summer Samba
See all of Summer's merch at her
her Zazzle Designercat Shop