Finding My Space
We are still settling into the new house. My human's boyfriend came home at the end of September, but it took him a couple of weeks to completely unpack his suitcase. So I turned it into a cat bed.
Funny, this place is a lot bigger than the old house, but all us cats seem to want to be in the same half-dozen spots. For example, our favorite morning hangout is by the double doors that overlook the back patio.
I also really enjoy the built-in cat tree. My human says it's not a cat tree — it's a spiral staircase. That's okay. She can call it whatever she wants. We all know she is clueless.
The only problem is that Binga likes hanging out on the built-in cat tree too.
This occasionally causes some conflicts.
There's a bay window in my human's new office, and she put one of the cat beds there so we could hang out with her. Actually, she put it there mostly for me, but the other cats insist on using it too. So it gets a little crowded there sometimes.
My human placed a bunch of her dumb stuffed animals by the bay window too. I'm never going to get away from those things.
Plus she still has a few that she's trying to sell on eBay. I was forced into posing with them, as usual.
I was extremely annoyed to be put into such a humiliating position and went off to be by myself when I was finally done. My human said I was sulking. Whatever.
But there are some other cool things about the new house. I like the floors because I find interesting things in the gaps between the big planks.
In case you are wondering, don't try to eat those bugs. They taste nasty. I spit this one out.
Maybe my human was trying to make up for forcing me to pose with dumb looking stuffed creatures, because I'm the only cat who has been allowed to go into the enclosed patio so far. She says she needs to figure out a way to seal off the barbecue before the other cats can go hang out here. She knows I won't jump in it… at least as long as she keeps an eye on me.
She really expected me to admire the view. I was more interested in that weird chair thing that the humans use to hang upside down.
I also lucked out on Halloween. I was worried that my human was going to put an ugly "novelty" collar on me like she usually does this time of year. But I found an even better costume for myself this time around, merely by napping near the shutters in the late morning. So this year, instead of a clown, I get to be a prison inmate.
* * *
---
---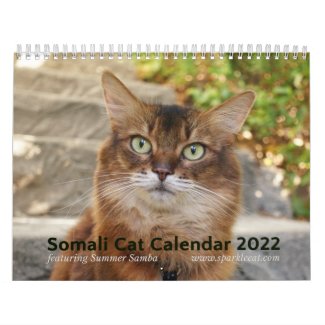 2022 Somali Cat Calendar Starring Summer Samba
See all of Summer's merch at her
her Zazzle Designercat Shop