The Cat Hotel
I learned something very interesting this month about humans: they are really weird about bugs. I mean, really weird! I was playing with one on the kitchen floor one evening and just having a lot of fun, and my human starts freaking out. Then her boyfriend points at the kitchen light fixture and there are a whole bunch of dead ones inside it. That really upset her.
She had some "bug guy" come over and he said they were termites. Then he said something about a tent. I thought this sounded interesting, but I never did get to see this tent everyone was talking about. The humans made all sorts of preparations for the tent, though. They packed up the whole kitchen and bathroom and put the boxes in the garage, which apparently wasn't getting a tent. My human made a point of packing up "absolutely everything those cats put their mouths on." That meant, of course, all our toys.
She was amazed at how many we had! She said it was no wonder we are so spoiled, whatever that means. Like she's one to talk — she packed up all her dumb plush toys (we, um, put our mouths on them too), and they filled up a box four times the size of the one that held our cat toys.
She also packed up all our cat food and treats. Unfortunately she left the treats out overnight — Binga found them and ate every last one.
A few days before the tent thing, my human did something really nasty to us — she packed us all up and took us to the emergency clinic. There wasn't even an emergency — someone who works with her boyfriend also works a shift there, and she gave us a bunch of shots. My human said we should be glad we went to the emergency clinic, which is only a few minutes from our home instead of some place all the way across town. Whatever. It was still a hateful experience.
But nothing prepared any of us for what happened the day the tent thing was supposed to come. My cat tree got put outside and my human got out the cat carriers again.
We were less than thrilled. In fact, Binga threw a fit. In fact, she threw a four-day fit, but more on that in a moment.
So my human stuffed us in the cat carriers and dragged us over to some place called the "Cat Hotel." She said we should be really happy because it was costing her more per day than the motel room where she and her boyfriend were staying. Apparently this Cat Hotel is a really fancy place. I hear that Jay Leno's cat gets to come here sometimes. (Other than me, I didn't see any other famous cats while I was there, though.) Anyhow, my human brings us to this place and sticks us in this big cage.
It was kind of intriguing, especially since it didn't smell like a veterinary clinic or anything. But then I realized that my human was going to leave us there!
Actually the Cat Hotel was a pretty nice place, once I got the chance to explore. It had this area that I thought only existed in my dreams — a space full of really fancy cat trees! They call it the Enchanted Forest, a name that I think is totally appropriate.
Plus our cage faced the window, so it had a view! There was a film crew shooting some scenes below us. Very Hollywood (even though the place is actually in Burbank).
Boodie liked getting out and wandering around and checking out the other cats. She likes being around cats more than people anyhow. I found lots of interesting places to explore.
Binga hated it, though! I can only attribute this to the fact that she came from the streets and does not know how to appreciate the finer things in life. There was a black Persian named Harley who had the cage next door to us. Binga hated Harley. Harley didn't care. When he got to wander around, and Binga was locked in the cage, he would lay down right in front of her just to annoy her. Then Binga would get mad at Boodie just because she was convenient. No wonder Boodie liked to wander around so much. It gave her a break from Binga.
I really liked the Cat Hotel, especially because my human came and hung out with us every day we were there. I could have stayed there longer, but then my human came and brought us home.
One good thing I have to say about the whole tent thing — when my human was putting boxes in the garage she found the Drinkwell Pet Fountain
she bought for us over a year ago (we had one before but it got destroyed when the ceiling in the breakfast nook collapsed). So she brought it out and set it up for us.
The bad thing was that my human forgot to remove my birthday gift from the house, so she tossed it. That really bummed me out. She tried to make up for it by getting me a new toy. Of course, it was a cheaper toy — some thing that we're supposed to play with when it hangs off a doorknob.
What a stupid concept! After I realized that it was just going to sit there and not do anything, my human removed it from the doorknob and tried to get me interested in it. It didn't pass my taste test.
This was really an eventful month! We cats were really glad when it was over and we could just relax.
* * *
---
---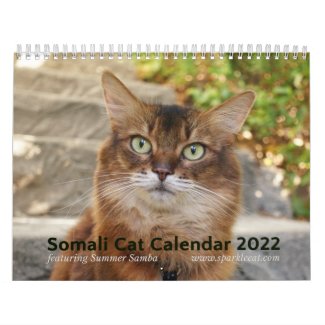 2022 Somali Cat Calendar Starring Summer Samba
See all of Summer's merch at her
her Zazzle Designercat Shop