I've had some photo sessions that were pretty much all bad… and you've seen those posts. But here are some random photo flubs that didn't wind up in those photo sessions… and one or two extras. The photo above? That's from my pathetic fall photo shoot. You would have though I'd have used up all the bad photos in the previous photo shoot. I guess not!
I look like all mouth and no body in this photo with the weird perspective! Remember when my human needed a photo of me giving a High Five for a feature? That was actually our second attempt… this is from the first, totally failed attempt. It really is hard when there isn't an extra person to take the photo!
See what I mean? My human is right handed and was trying to take the photo with her left hand… that didn't work out too well! At least her right hand is in focus, and it's not half cut out of the shot.
Here is a shot showing what I thought of the whole photo session involving the spider, and my human's attempts to get me to put my paw on it. But if you recall the original blog post, I did finally do it!
A raspberry in a pumpkin bucket… what could be more trick or treat-ish?
I hope you enjoyed these photo flubs!
* * *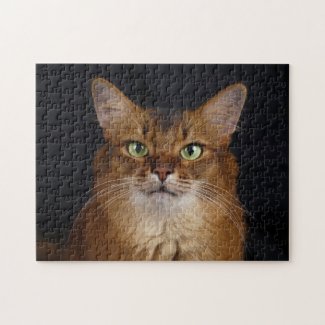 Somali Cat Photo Portrait Jigsaw Puzzle
See all of Summer's merch at her
her Zazzle Designercat Shop