As you can see, I dressed up in my nurse's uniform for this week's therapy cat visit. I always try to dress up at least once or twice during October, since it's Halloween month. That's the only time we're allowed to wear something other than our official therapy vests.
It was a double cat day, since Josie, our organization's other therapy cat was doing visits today too. She wasn't dressed up, however. Which shows that every therapy pet has their own specialities (or, as my human says, idiosyncrasies). The important thing is that we work well with patients and staff, and behave nicely. Anything else we care to do is icing.
Our first stop was the Cancer Center. I worked the waiting room while Josie laid down with a patient. There was one lady in particular who was delighted to see me. So I spent time with her until another woman showed up and wanted a photo with me in her arms. So we all had a nice time there.
Next up was Pediatrics… but I was disappointed to find out there were no children to visit. (Although, honestly, no sick kids is really a good thing!) There was lots of staff, though, and they all loved my outfit! Dressing up in an old-fashioned nurse's outfit is always a hit with the staff. Lots of them took photos of me, and with me. I confess, I was really in my element with this. We also stopped by the resident's lounge area before heading downstairs. The residents adored my outfit (and me) too.
There were several adults to visit in rehab. We almost didn't visit the first patient, because it looked like she was asleep. I walked over on my leash anyway, and she rolled over and saw me before she even saw my human! She laughed and was so happy to see me. I spent a long time with her, and she chatted with my human about events she does that might want therapy pets. She was a very nice lady.
We also stopped to see a man who had two women visiting him. They all really enjoyed seeing me. He was sitting up, so I sat next to him on the bed while one of the women took photos of the two of us. The pictures actually came out really well!
By the time we finished in rehab, we were done for the day. We accomplished a lot on this visit.
Other posts you'll enjoy:
* * *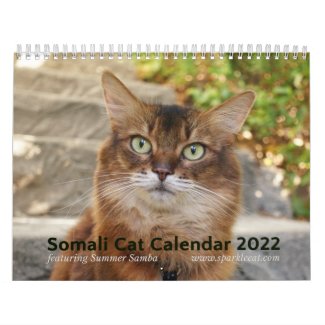 2022 Somali Cat Calendar Starring Summer Samba
See all of Summer's merch at her
her Zazzle Designercat Shop