Perks
I don't get my human. She and her boyfriend constantly treat Binga like she's some sort of wonderful kitty — but Binga's always doing something to misbehave. And she doesn't even have to do much to be bad. Like her latest idea of a warm bed is my human's semi-new MacBook. So she can be bad just by napping.
On the other hand, I am a good kitty — I only sleep on laundry that's on its way to the cleaners. Or in guitar cases. Actually, I'm probably not supposed to hang out in the guitar case, so I only do it when my human's boyfriend isn't awake or at home.
But that's not important. Here's what is: my human's trip. At first I thought it was going to be her usual rotten disappearing act, but this time she returned with a bag of kitty stuff! Apparently she was at conference held by the Cat Writers Association. She is a member, and I have no idea why since I do the cat writing around here. But whatever. The moment she opened up her suitcase, Binga and Boodie were all over it.
I didn't think I was going to get a paw in edgewise, but my human brought the bag upstairs and let me check it out all by myself. I couldn't believe all the good stuff there was!
There were cool toys and bonito treats.
Plus a brand new cat sitter DVD!
That was my favorite — getting a whole new group of birds, squirrels and fish to watch.
There were also several cool catnip items. Of course, by the time we got around to that, catnip junky Boodie had started poking around.
She didn't even wait for my human to open up the catnip Pawbreaker package. She was all over it in a flash.
I was disgusted by her shamelessly stoned behavior. Well… uh… until I got a whiff of that ball myself.
Anyhow. The bottom line is I'm the real cat cat writer here, and this is all my stuff.
* * *
---
---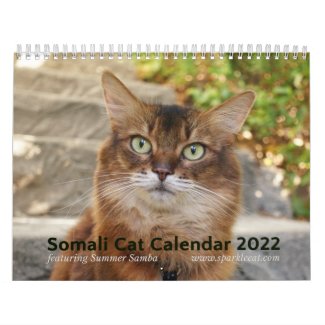 2022 Somali Cat Calendar Starring Summer Samba
See all of Summer's merch at her
her Zazzle Designercat Shop