Originally I wanted to do a post of Thanksgivings past with Binga and Boodie. Then I realized I didn't have any! Thanksgiving around here has consisted of my human disappearing for a few hours and showing up late with some bites of turkey (or one year, salmon) for us. The last time Thanksgiving happened in this house, Sparkle was still around and I wasn't born yet. My parents may not have been born yet either. But I did find some fun memories from November 2016, so I will share those with you today.
In a lot of ways, things weren't too different from now. I did training outside, only with my old bell. And those of you who follow me on Facebook may remember the purple rose collar.
This was also the year I acquired this Christmas tree hat. Here's a test shoot with it. It took a while for my human to play around with it and add accessories before she was satisfied with how it looked.
2016 was my first year as a therapy cat, and I had several visits. This photo makes me sad because this particular hospital closed down at the beginning of 2020.
I don't know what happened to this wild hat! Maybe the moths ate the purple feather part.
I was surprised to see there weren't that many photos of me with either Binga or Boodie. This was one of the few, when I was doing a promotion for the book Shop Cats of New York.
And lastly, here are me and Boodie, sharing the scratcher lounge.
I hope you enjoyed these memories almost as much as I did!
Other posts you'll enjoy:
* * *
---
---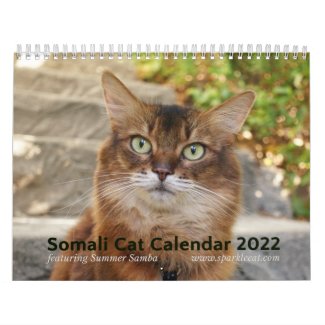 2022 Somali Cat Calendar Starring Summer Samba
See all of Summer's merch at her
her Zazzle Designercat Shop