I need to supervise my human more often when she goes to the pet store. I didn't accompany her the other week, and look what she came home with! You know I like dressing up, but this Halloween headwear (and neckwear) is just lame! And she just sort of dumped these things in a pile in front of me to pose with.
At least I've got someone to help me wear these. I get the feeling that wasn't her intention when she showed up.
I think this collar thing looks kind of cheap. Oh well, I have a therapy visit with kids today, so maybe they will like it. I wonder how Binga is doing with the fish hat.
Apparently not too well.
I guess I will have to show her how to wear it.
Who thought of this hat? Seriously, it is the silliest thing I think I've ever had to wear (and I've worn some silly things)! And my human is just as silly for buying it.
I don't think even I can make this hat work. Can I take it off now?
I think Binga is starting to regret showing up for this photo shoot. Can you blame me for laughing?
Don't worry — we got lots of treats for wearing these!
* * *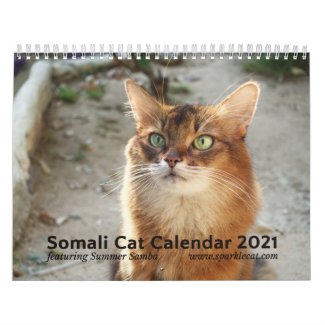 2021 Somali Cat Wall Calendar, Starring Summer
See all of Summer's merch at her
her Zazzle Designercat Shop