I had some fun visits during this weekend's therapy cat work! It started even before I officially signed in. The volunteer notebook is in the HR department on the eighth floor, and it's usually pretty empty, with only a couple of people working. This time, one of the employees had their two children with them, and they wanted to pet me! So of course I let them. They were very nice little girls. But after a few minutes, of course, I had to start my rounds.
My first patient was an older middle-aged lady with a tattoo on her arm. She was delighted to see me — she had a cat that had passed away at 18, and the dog she currently had was 14, hairless and was going blind. She was sad that she had developed an infection in her leg and was going to have to stay in the hospital for much longer than she expected. So I spent lots of time hanging out with her.
Of course all the nurses were happy to see me — they always are, and many of them know me by name. A couple even follow me on Instagram! Sometimes I feel like kind of a celebrity because they pull out their phones and take photos of me. Of course, after that happens, then my human and I run across patients, like the blind Spanish speaking lady who had no idea why my human was there. Although I meowed once, my human's limited Spanish couldn't convey that there was a therapy cat here to see her.
On the other floor I visited, lots of patients were sleeping. And then through one doorway, my human saw a flower arrangement… with a huge lily right in the center! Even the pollen from lilies can kill a cat, so we walked right by that room and didn't go in. But this was also the floor where I also saw my favorite patient.
He was an older man and my human thought he was asleep at first. But he was just sedated pretty strongly, so my human tried to explain about me. "What've you got there?" he asked in a weak, but gruff voice, "a rattlesnake?" My human laughed, I got to lie on the bed and visit with the guy for a while, while he told my human about the reptiles and frogs he used to hide in his bed when he was a young boy. My human totally related because she used to keep lizards and snakes when she was young. He was funny, even though he was drugged out, and I curled up next to him. He looked frail lying there in the hospital bed, and my human got the impression that he did not like being old and sick. I purred lots while we were in his room.
I think both my human and I got a lot out of this day.
* * *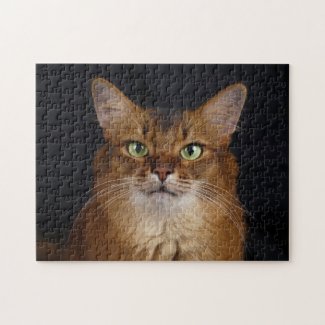 Somali Cat Photo Portrait Jigsaw Puzzle
See all of Summer's merch at her
her Zazzle Designercat Shop