After all the fun I had with the Box Game, my human decided to give me a try with some bags. She had a recent delivery from Amazon Fresh, and the bags were nice and sturdy, so she set things up.
I was ready to get going!
I had lots of fun with the bag on the ground. The bag that was standing up was something else.
I had jumped into bags before, so my human figured it shouldn't be too hard to get me to jump into this one. Except I didn't! Every time she threw a treat in the bag, I kept looking underneath it.
Finally, in an attempt to teach me what she wanted me to do, she brought in the chair. She figured I would jump into the bag from above, and eventually get the idea.
I did get the first part right.
I never did get the jumping into the bag part from the floor, though! The closest I got was pulling the bag down to get the treat.
I was disappointed she gave up! I love any game that involves throwing around treats!
* * *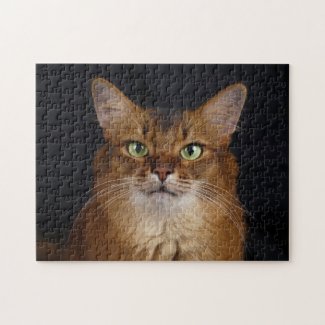 Somali Cat Photo Portrait Jigsaw Puzzle
See all of Summer's merch at her
her Zazzle Designercat Shop