I don't often write about cats needing homes. It used to be helpful a decade ago, so Sparkle did it fairly often when she was running the blog. But now social media has gotten both bigger, and smaller at the same time. The face, and the methods of rescue has changed over time. So posting about cats needing homes on a blog that has readership sprinkled all over the world doesn't do much anymore. But I saw an article about a cat in the U.K. and just felt compelled to share about her.
Meet Monique. She is at Battersea Dogs and Cats home:
Isn't she lovely? And she's only two years old. But she was at the shelter for over 100 days with no interest. So the shelter staff threw her a party for her birthday, which happens to be on Valentine's Day… and nobody showed up. Nobody offered to adopt her. Isn't that the saddest thing you ever heard? Here's the story that appeared on the MetroUK website.
Monique's main issue is that she is FIV+. That is not as big a deal in the U.S., where adopted cats are mainly kept indoors. But in the U.K. cats are more often allowed to roam, and Monique would have to be in a confined garden to keep from encountering any other neighborhood cats.
Monique is clearly a sweetheart, and it's terrible that her birthday party was such a failure. If you know anyone in the U.K. who could give her the type of home she needs, her adoption page is here.
UPDATE: Monique found a home not long after the Metro story came out!
* * *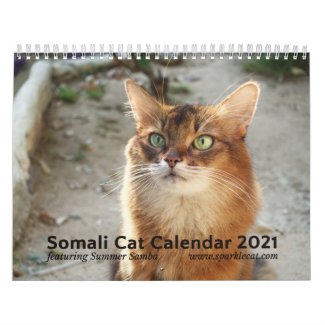 2021 Somali Cat Wall Calendar, Starring Summer
See all of Summer's merch at her
her Zazzle Designercat Shop