Here I am, at the vet clinic for no reason! My human, with the help of her boyfriend, had to bring all three of us in because someone had what humans refer to as "soft stool." It was either Binga or Boodie. My human already knew it wasn't me (don't ask how), but I had to come along anyway because I act "aggressive" when my roommates return from the vet. Aggressive, really? Tiny little me? Heh-heh. I didn't want to be there. My human didn't want to drag me along either — but she knew I'd go ballistic on Binga and Boodie if she didn't.
You know who didn't care about being there? Boodie! Can you believe it? She's supposed to be the "shy" one, but while we were all waiting for the vet, she wanted out of her carrier so she could wander around.
She kept trying to figure out why Binga and I didn't want to come out — and we kept hissing at her.
The vet checked out both Binga and Boodie, looked up their butts and felt their abdomens and figured out it was probably Binga. Binga also had a claw growing into her paw pad that needed to be cut out. My human warned the vet that her techs needed to put on their heaviest armor if they expected to do that successfully. While Binga was out having her pawdicure, I decided to explore a little… and I saw a ceramic treat container on one of the counters.
Sadly, it was empty.
In spite of my human's dire warning, the vet techs said Binga complained a lot, but did not totally freak out on them. Her paw did bleed when they cut away the nail, so they bandaged it up. They said she had to wear the bandage for two days.
Binga did not like the bandage at all! She complained the whole time it was on and kept whapping the humans (and sometimes us cats) with it.
She never got used to it. In the end, I think she was plotting revenge.
* * *
---
---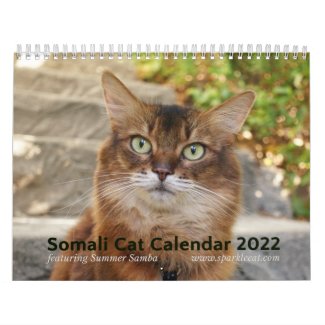 2022 Somali Cat Calendar Starring Summer Samba
See all of Summer's merch at her
her Zazzle Designercat Shop