What's a kitty to do when it's too hot to go out? Have a nip party, of course! Our fresh catnip from last week is still drying, but my human had some good stuff onhand. Literally on her hand at the moment.
I'm not sure if Binga was invited, but she's here anyway.
Oh well, the more nip I have, the less Binga's being around will matter, right?
Uh-oh, I just remembered — I still need to do a selfie!
Ugh! I hate trying to set up when I'm nipped out like this. It's even worse than last week.
I can't even see straight! Which I guess is kind of obvious.
At least the focus is better, even if it is horribly off-center.
You can totally tell I'm nipped out here. Oh well, this will have to do. Binga's commandeering all the nip.
* * *
---
---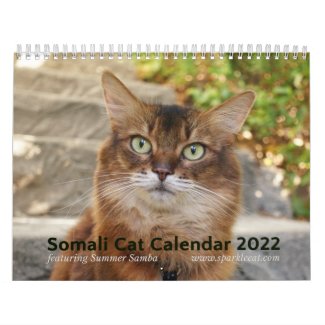 2022 Somali Cat Calendar Starring Summer Samba
See all of Summer's merch at her
her Zazzle Designercat Shop