It is New Year's Eve and I am ready to say hello to 2018! I'm celebrating by the Christmas tree, and I think I have every thing I need.
I've got a rattle for the stroke of midnight!
My human even found some kitty-friendly champagne for me!
It contains salmon oil, catnip and organic food coloring! I'm very excited to give it a try.
Hm. Maybe my human should have bought two bottles.
I am ready to give a New Year's Eve toast!
Apparently champagne flutes weren't made for kitty faces. I guess the toast will have to wait until I find a more species appropriate glass. So maybe I'll do my selfie right now instead. I want to do it before I start drinking anyhow. I don't want a repeat of what happened a couple of years ago.
Here you go! The photo colors on the iPhone weren't nice and festive like on my human's regular camera, so I had her warm it up with the Curves adjustment layer. I hope that isn't cheating!
Here's to 2018 — I hope it is fabulous for all my pals!
* * *
---
---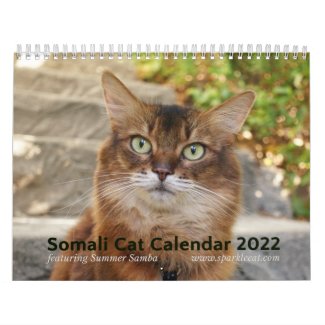 2022 Somali Cat Calendar Starring Summer Samba
See all of Summer's merch at her
her Zazzle Designercat Shop