It's New Year's Eve, and I'm dressed up and ready to say good-bye to 2016. I know a lot of humans are ready to say good-bye to this year too, and a lot of them are worried about 2017 and what it will bring. But you know what? There are things over which neither humans nor kitties have control, and you should not worry about them. Instead, think about the things you can change, and do those. If you are taking action and working hard to do what you can, you may help yourself and others in ways that will surprise you. Maybe you can make small changes in your community that will send waves that go out into your whole city. You know, that is how rescue humans are working to create a No Kill Nation. You can use the same approach for anything that is important to you.
Also remember that important kitty lesson: live in the now and care about what is right in front of you. If you are too concerned about things from the past, or that might happen in the future, you miss a lot of opportunities that are going on right at this moment. That is how I am able to jump on the counter and steal food before my human serves it to us. Breakfast is in the future, but instead of thinking about that, I see an opening where I can go get my food right now! Okay, so maybe that is not the best example, but I think you know what I mean.
Anyhow, there may be bad stuff happening in 2017. There may be some good stuff happening too. Probably a mixture of both — nobody knows for sure. But you can do something now to make a difference, in your life and in others' lives. I hope you give that some thought as you ring in the new year.
I also hope you have a good New Year's Eve and that nobody annoying crashes your party!
* * *
---
---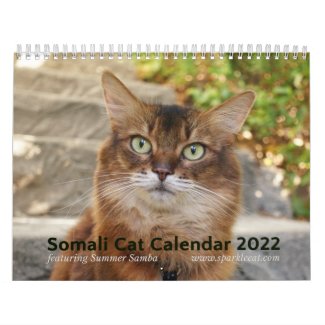 2022 Somali Cat Calendar Starring Summer Samba
See all of Summer's merch at her
her Zazzle Designercat Shop