Look what I got — an OurPets Electronic Pounce House! I won it in a giveaway held by my pal Cody. We got it a while back, but it took until yesterday for my human to open it up for me.
The Pounce House looks like any old cube-type house toy, with a difference: it's got this battery-operated thingie that hangs from the ceiling. The OurPets humans were nice enough to include the two AAA batteries required so my human didn't have to go digging around for some.
I'm usually not that big on electronically-operated gadgets, but I had a lot of fun with my new toy! And I will tell you a secret: I figured out how to remove the toy part from the cube. My human put it back, and now when it's turned off, I just hang out in the cube to relax. So it's a cool toy and a nice hideout too. If you want to check it out, you can see the Pounce House here on Amazon.
I also thought this would be a good time to take this week's selfie!
I just need to get the iPhone set up just right…
And here you go!
Disclosure: the link to the Our Pets Pounce House on Amazon is an affiliate link, and I will get a small commission if you click on the link and make a purchase.
* * *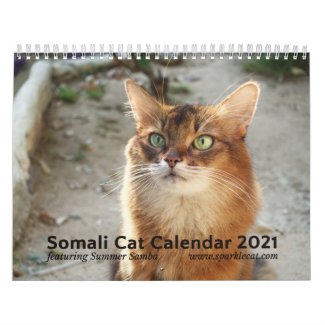 2021 Somali Cat Wall Calendar, Starring Summer
See all of Summer's merch at her
her Zazzle Designercat Shop