We are having a ridiculously nice week for late winter here. It's in the upper 70s and low 80s. So of course I went out for a walk out front. I didn't even need a dress (and I don't have any new ones at the moment anyhow). You've seen me out here a bunch of times, so I thought I'd show you some new garden views that you may not have seen before.
First, though, I wanted to pose in front of these flowers, just because they're so pretty. Even if you have seen them lots before.
What you haven't seen, at least not for a long time, is a profile of me!
Just a few feet from this little garden spot is this area in front of the planters. It always gets overlooked because the plants grow over it. My human thought it would be an interesting spot to take photos of me.
And because the lawn is so green right now, my human had me pose so that she could just get nothing but grass around me! I like this — it really sets off my eyes. In case you are wondering, yes, I was making happy paws out there.
And finally, here is a close up of me.
* * *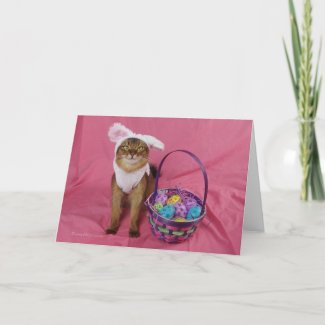 Hoppy Easter Somali Cat Holiday Card
See all of Summer's merch at her
her Zazzle Designercat Shop