Remember when my human came home with a couple of dresses for me and one didn't fit? Well, guess what? We found one in the right size! But that's for another blog post. Today, I just want to show off the dress. And take a selfie, of course.
So it's time for my human to hand over her iPhone!
I just need to get the iPhone line up properly, and the timer set.
Oops! That was a misfire. Let me reset the timer and get back into position.
There you go! And I really will tell you about my pet store trip in a few days, I promise.
* * *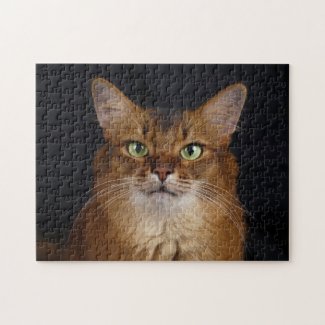 Somali Cat Photo Portrait Jigsaw Puzzle
See all of Summer's merch at her
her Zazzle Designercat Shop