Before other plans got in the way, my human and I were supposed to go to Barkworld. That didn't happen, but one of the attendees made bandanas for the humans who did go, including one for my human's publishing company, since we were still on the list. When we didn't show up, she was nice enough to send it to us! Isn't that cool? Her Etsy shop is JmeGirlShop, if you'd like to check it out — she has catnip sachets and treat bags!
Of course I had to try it on, even though is a little big for me!
I thought it was getting too quiet around here!
Maybe my human should have put the bandana on her instead!
* * *
---
---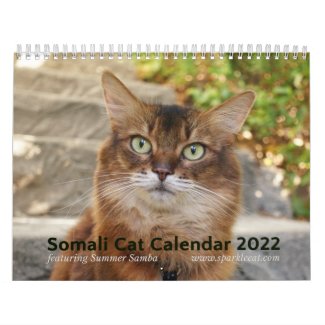 2022 Somali Cat Calendar Starring Summer Samba
See all of Summer's merch at her
her Zazzle Designercat Shop