When we cats look out the window, it is not all about Bird TV. We have other important duties too. For example, I am a member of the Neighborhood Watch team.
I have a perfect view of the back part of the house that belongs to the old lady who lives next door to my human. She seems like she is very nice, but you can never be too careful about your neighbors. She could be a front for a catnip smuggling operation, for all I know!
That big black thing has me concerned. I think she may be doing some weird experiments with chess pieces.
At first I thought the statue on the table was a real bird. I was wondering why my Bird TV suddenly froze up.
Beyond the old lady's house and some electrical wiring is another house, and I can see their back door. This is a good thing because I can check out their comings and goings. They can't get away with anything when I'm watching! Notice all the watering cans on the ledge of the old lady's deck. I think this gives credence to my suspicion that she may run a catnip growing ring.
It's a good thing somebody is keeping watch around here! My human never knows what goes on with her neighbors. But I know everything!
* * *
---
---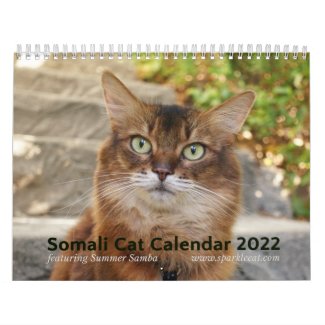 2022 Somali Cat Calendar Starring Summer Samba
See all of Summer's merch at her
her Zazzle Designercat Shop