As you recall, a couple of weeks ago, my human FURminated Binga and she was expected to make some sort of "creature" from the resulting pile of fur. Today is the day I, along with 21 other blogging cats, get to reveal the results. You may not be surprised with what my human came up with. In fact, one of the commenters to the above post, Lin, came pretty close to guessing what it is.
That's right — it's a mini-Binga!
Binga seemed protective of this thing. I don't think she liked me getting too close to it.
Doesn't she look proud of her, uh, creation? Admittedly, my human did not put a whole lot of effort into it, so it is mostly Binga's.
Me? I am going to keep my distance. I think it is creepy.
* * *
---
---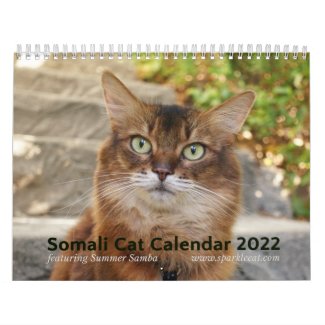 2022 Somali Cat Calendar Starring Summer Samba
See all of Summer's merch at her
her Zazzle Designercat Shop