Happy National Fried Chicken Day! Isn't that the best idea for a holiday? And I didn't even have to make it up. Plus the holiday itself tells you how to celebrate — with some tasty fried chicken. My human decided to do something a little different this year. Instead of bringing me back something like KFC or Popeye's, she brought home a Chickenjoy box from Jollibee. Jollibee is a chain from the Philippines, and our area has a big Filipino community. So one of the four Jollibees near L.A. happens to be in our local mall. She's never tried it, and she thought this would be a great holiday to stop by.
As you can imagine, I couldn't wait to dig in!
It smelled heavenly! My human got it with rice and gravy. She could have gotten it with noodles too, or spaghetti.
I didn't get a whole piece to myself, of course, but I got lots of tastes! My human thought it was no better and no worse than other fried chicken she's had from different chains. She loved the rice with gravy, though. She says the gravy is better than KFC's.
I say, why wait until next year? I think we should celebrate National Fried Chicken Day every day!
* * *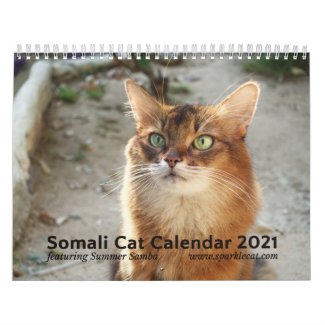 2021 Somali Cat Wall Calendar, Starring Summer
See all of Summer's merch at her
her Zazzle Designercat Shop