My human and I thought it would be fun if I modeled the worst Halloween cat costumes in my closet! So here they are, and I am ready to start putting them on.
First up is this pumpkin outfit that apparently was designed for a 20 pound cat! I didn't want to be a pumpkin for Halloween anyway.
Then there's this devil costume, which has the opposite problem — the hood with the horns is way, way too small!
This lobster costume fits just fine. And looks totally stupid.
My human thought it would be fun to have me pose in the infamous fish costume — and wear the fish hat at the same time. The combo earned a worst cat costume slot, for sure.
And the big winner of my worst costume modeling session is… this horrible, cheap looking spider! You can see more of it here.
So what did you think? Were these awful, or were they awful? And which do you think is the worst? Let me know in the comments.
Other posts you'll enjoy:
* * *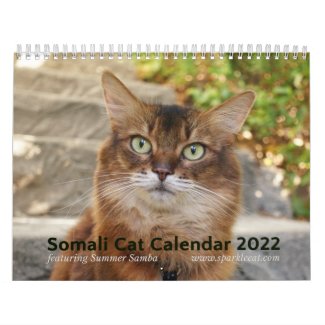 2022 Somali Cat Calendar Starring Summer Samba
See all of Summer's merch at her
her Zazzle Designercat Shop