I was so busy this week that you didn't even get to see all of it! So I'm sharing the parts that you missed today. It's a good thing my human and I do yoga most nights. (Yes, I get my own yoga mat next to hers — and I use it too!) We both need the time to relax.
I did a Facebook and YouTube Live for Kitty Cat Go! Well, my human did most of the talking. I was there, but I mostly hung around on the table, just out of camera range.
Even though I wasn't on camera much, I still got a bath ahead of time. My human said that with things we have scheduled, it looks like I am going back to my regular, twice-a-month bath schedule.
I do want to say, I looked fab when we were done (and I knew it).
My human also shot a quick video while I was out front a few days ago. It's on my TikTok, and it's on YouTube with a different soundtrack. You can see the YouTube version below.
And here's another YouTube Shorts video I haven't shown you on the blog yet. If you follow me on Instagram or TikTok, you've seen it there with different soundtracks:
I hope you enjoyed seeing all the things I've been doing this week!
Other posts you'll enjoy:
* * *
---
---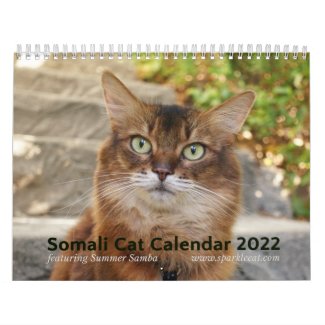 2022 Somali Cat Calendar Starring Summer Samba
See all of Summer's merch at her
her Zazzle Designercat Shop