Welcome to my Valentine's Day party! I am wearing a pretty new harness just for you! We are going to have lots of fun!
Even Binga is in the Valentine's Day spirit! We are excited because this is not only a party, it's a commenthon! Did you know that February is National Spay and Neuter Month? One organization we love lots around here is Fixnation, which supports Trap-Neuter-Return with free spay and neuter clinics for ferals, and also offers low cost spay and neutering services for tame pet cats. This is an awesome organization, and my human is going to donate to them, 50 cents for every comment left below between now and February 24, up to $50.
Now on with with the party — let's see what's in the pretty pink chest!
It's a bunch of foam conversation hearts for us to bat around!
And I have heart bouquets to give out… although to be honest, they smell kind of funny.
I bet you are hungry, so I had my caterer hand make heart-shaped, artisan roast chicken pizzas!
I have some awesome treats for you too! Don't worry, they are not chocolate.
They are all cat treats!
I bet you are wondering about the giveaway I promised — well, I have two! Here's the first one: a Valentine's Day gift pack that includes two cat toys, Canidae grain-free chicken treats (they are heart shaped!), and a copy of Rescued, hot off the press! Plus the cat toys come in a cool little Valentine's bag. Enter to win it here — everyone is eligible, including my international readers!
And I have a special Valentine's Day giveaway, courtesy of Triple T Studios: a really pretty necklace and a sweet pair of earrings, courtesy of Triple T Studios!
I even got to model the necklace! I think it looks much better on me than on my human!
Enter to win the necklace and earrings below — again, this giveaway is open to everyone, including international readers!
I hope you enjoyed my party! Remember to leave a comment — and make sure you take a hug before you go!
* * *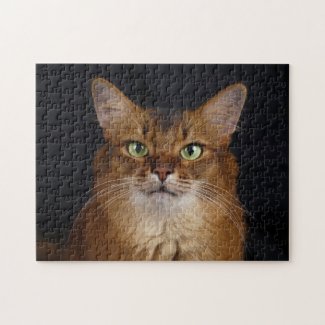 Somali Cat Photo Portrait Jigsaw Puzzle
See all of Summer's merch at her
her Zazzle Designercat Shop