I am so glad you could make it to my party! Remember to leave a comment — for each one, my human will give 50 cents to Kitten Rescue, up to 50 dollars! (One comment per kitty family!) Also let me know if you want a Valentine from me and to be entered in the door prize drawing — I have several things to give away!
Make yourself at home! I have special whipped cream appetizers for everyone — instead of that icky sugar humans like, I have added salmon flavor to these!
Here is what my human was making the other day — a kissing booth! Nellie, you were right!
So I don't get too worn out, Binga offered to help! She is ready to kiss anyone!
Boodie was a little shy, but she also offered to spend some time in the kissing booth!
Now for some fun! I have set up a Valentine's Day play area with decorative bags, red streamers and fabric heart petals! Let's go crazy!
I know all this activity will make you hungry, so I've got lots of good food for you, starting with shrimp cocktails! But instead of the boring red cocktail sauce humans make, mine is nip sauce, with catnip fresh from the garden!
For the main dish, my human made a special, heart-shaped turkey meatloaf for us kitties!
Just because it's Valentine's Day, everything doesn't have to be chi-chi. Sometimes comfort food is the best!
When you comment below, make sure to let me know if you want a Valentine and if you want to be entered in the drawing for the door prizes. You can see the Valentines and prizes here — plus I am also giving away the Friskies bag my human picked up at the Friskies Plus Playhouse!
I hope you had a lot of fun! Since it is Tortie Tuesday in addition to Valentine's Day, I thought I would let Binga have the last word:
* * *
---
---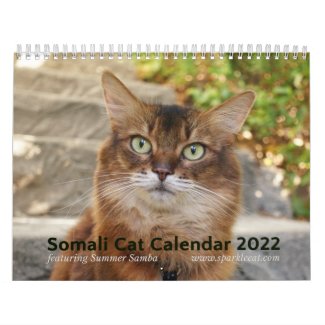 2022 Somali Cat Calendar Starring Summer Samba
See all of Summer's merch at her
her Zazzle Designercat Shop