Since I have a one-day cat show this weekend, I wanted wardrobe with a Valentine theme. I knew I had some valentine outfits in my closet, so I looked… and there were four Valentine hoodies! I don't know why so many of my Valentine's Day clothes are hoodies, except maybe because February is a cold month! Anyhow, I thought I would model them for you today. I added photos of me with the hood part of the hoodie on as inserts. Let me know if you think I should bring any of them to the cat show.
This one seems to be a little small on me! And that includes the hood. It's like it was made for a tiny dog head or something.
The body on this one fits better — but the hood is too big! One of my ears kept poking out. I do like the ruffles though.
This hoodie was the weirdest fit of all. The body part was small and really short, but the hood was huge! I could barely see.
And lastly, here's my Queen of Hearts hoodie. It fits nice and has fun, polka-heart trim, but the hood never seems to sit quite right on my head.
So there you have it! Do you have any favorites? Or do you think they all look pretty silly on me? I have a couple days to figure out what to wear, so I'd love to hear your thoughts.
* * *
---
---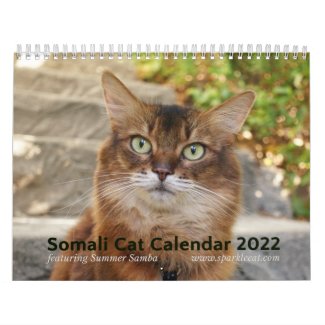 2022 Somali Cat Calendar Starring Summer Samba
See all of Summer's merch at her
her Zazzle Designercat Shop