This is not how I wanted to end 2020, style-wise. My human brought home a sweater for me. An ugly Christmas sweater. This is the first one she's brought home because she thought the others she'd seen were too ugly. I didn't know ugly had degrees, especially where Christmas sweaters were concerned.
The tag was deceptively cheerful.
Actually the sweater isn't that bad. Except for one thing. It's a hoodie. Which normally isn't that big a deal around here. I have a few hoodies and I'm fine with them.
This hood is an integral part of this sweater, since it's supposed to be a Christmas tree, as you can see from the star on the top. The only problem, which you can also see, is it's huge! And it just doesn't say "Christmas tree," at least not to me.
Since the hood is too big to stay up on its own, I either look like a Christmas tree thug…
Or I look like a goofball!
With the hood down, it's okay, but nothing to make a big deal out of.
My human was actually considering having me wear it for my 2022 calendar. But once she saw it on me, she decided against it. However, this still may not be the last time you see this.
Other posts you'll enjoy:
* * *
---
---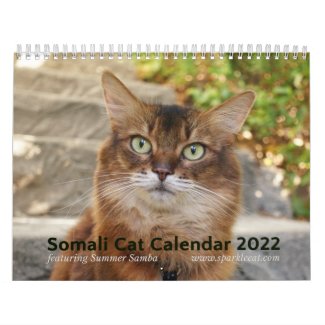 2022 Somali Cat Calendar Starring Summer Samba
See all of Summer's merch at her
her Zazzle Designercat Shop