The weather is continuing to be pleasant and even a little warm for this time of year. So I'm still getting to do my training sessions outdoors! Here's how they typically go these days.
My human thinks I've been getting a little sloppy with my Stay command. She doesn't want me walking up to get the treat when she says okay anymore. So we have been working on that.
It's not the most exciting trick, but it's crucial to so much else I do. Sort of like a piano player practicing scales, or a singer doing vocal exercises. At least that's what my human says.
After my stay practice, I ran up the stone steps around the side to do some high fives.
My human says that although I'm consistent in my high fives, my form could be better. So we worked on that. No matter how long you've been doing something, you still need to keep working on your weak spots. Here is my tip for doing that: make sure your practice always includes treats!
Other posts you'll enjoy:
* * *
---
---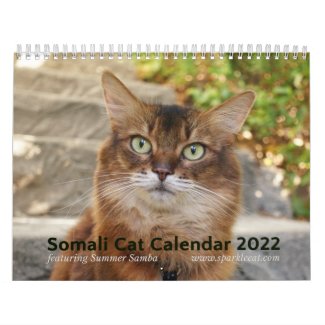 2022 Somali Cat Calendar Starring Summer Samba
See all of Summer's merch at her
her Zazzle Designercat Shop