I got to go to PetCo the other night! I went once before to a different one, but it was the day after I came home, and I hadn't been introduced to my harness yet, so I was closed in my carrier and my human didn't get any photos. But I'm used to the harness now, so this time I had a little more freedom. When we parked and my human buckled up my harness in the carrier, I started purring!
Don't I look totally professional? I had lots of fun helping my human shop for cat food!
And then I saw the most amazing sight! I thought I was dreaming!
It was a whole wall full of cat toys! I didn't know such a thing existed. I was so excited I wanted to take them all! My human said that when I am calmer and more used to shopping, I will get to pick out my favorite toy to take home. Right now, I'd probably just grab the first thing and get bored with it right away. I can't wait to go back!
By the way, somebody sent me a message asking about my carrier, and I tried emailing them back, but they must have mistyped their email address. Plus others have asked me about it too, so here is the info. It's a Pet Gear I-GO2 Traveler Roller Backpack, and this size of I-GO2 is best for small and medium sized cats (Binga and Boodie are both around 10 lbs. and they fit). It can be used as a tote, carrier, roller bag, backpack or car seat, and the only thing my human hasn't tried is the backpack. It works really nicely for me!
Note: Amazon link is an affiliate link, so I can earn enough money to buy some cat toys!
* * *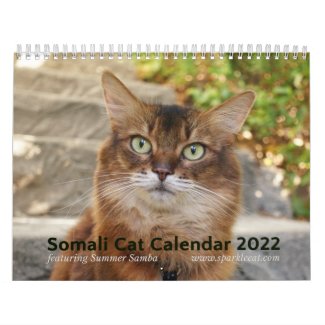 2022 Somali Cat Calendar Starring Summer Samba
See all of Summer's merch at her
her Zazzle Designercat Shop