Since I've mentioned them a couple of times, I thought you might like to meet my stand-ins!
You usually don't get to see them all at once because a) my human only needs one per photo shoot, and b) she normally can't find all of them! That's why there are three different ones. She just grabs whichever stand-in is handy and tosses it on the set so she can adjust her camera settings. Just this once, she was able to find all of them.
You are probably wondering if there is a story behind any of them. Really, there isn't. My human's boyfriend used to have a habit of giving stuffies to my human. He's lightened up on doing this, probably because he realized they were really beginning to clutter up the house. That's where the monkey came from, and the Starbucks Bearista dressed as a lamb (I remembered it earlier as being an actual lamb stuffie, but I was wrong). Grumpy Cat came here as part of a giveaway Sparkle had before I was around. Well, I was around, but I had just barely been born, and my human didn't know she was going to meet me or anything.
They really are kind of a motley bunch, aren't they?
I bet you are wondering if they are party animals!
Actually, I think they are kind of boring.
* * *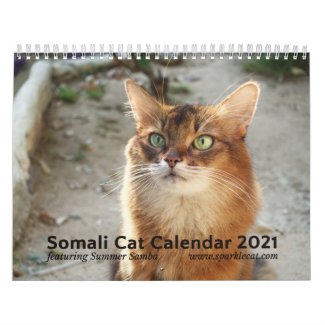 2021 Somali Cat Wall Calendar, Starring Summer
See all of Summer's merch at her
her Zazzle Designercat Shop