My human's first day at CatCon was a little rushed, since she was busy hunting down friends and not checking out too many of the booths. Sunday will be the big day for that. But here is some of what she saw on Saturday.
There was a booth to promote some mega-famous Instagram cats. I'm talking about cats with over a million followers! Well, I just passed 10,000, so that's a start.
One of the exhibits that was a must-see was the Hauspanther booth. Mostly because my human wanted to visit with its head human, Kate, but also because there is always cool stuff to look at. Like these awesome Midcentury modern tables/ cat beds!
Some brands took some interesting opportunities to advertise. My human went to the ladies room, and here is what she found in the stall.
My human also made sure to stop by the Halo booth. She really enjoyed meeting them at BlogPaws. They just joined forces with Lil BUB and her dude, Mike, which is a really big deal. The thing is, Mike won't let Lil BUB be a spokescat unless it involves a good cause that resonates with him. Working with Halo is a first for them. Lil BUB eats Halo cat food, but just as important to Mike is the company policy of giving back. So they were doing a fun promotion at CatCon. They had a selfie stick of Lil BUB, and for everyone who posed with it and posted it on Instagram with the hashtag #halopets, Halo donated a bowl of food to a shelter.
My human is pretty camera shy, so she didn't want to do a photo of herself. So they said she could bring this card home and I could pose with it and post it on Instagram for her.
So that is my selfie for this week! It'll be up on my Instagram feed sometime today.
Note: we don't currently have a business relationship with Halo (or Hauspanther), and received no compensation for this post.
* * *
---
---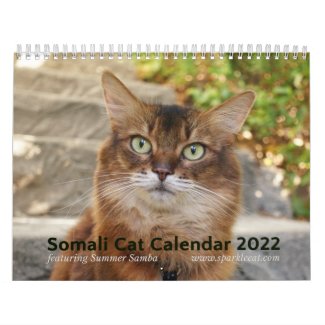 2022 Somali Cat Calendar Starring Summer Samba
See all of Summer's merch at her
her Zazzle Designercat Shop