Usually when I go out, it's pretty routine — watch birdies, pose for photos, maybe model a dress or two. Okay, so that's my version of routine! But I had some small adventures during my most recent outing. Two of them were little challenges my human offered me, and one was a fun surprise!
If something gives me pause, but it's not really dangerous, my human will test me to see if I can be more comfortable around it. When we came out back, the spa was cycling, and I was not totally comfortable about the water churning. We could have just walked past it, but instead my human offered me a treat to sit by it. And when I took it, she offered me another treat if I would sit up on the brick ledge. So I did!
Since I was okay sitting on the ledge, we did some trick practice! Maybe next time I'm near some running water, like a fountain or a fish pond, I will be more comfortable around it.
After that, we went around the side of the office and living room. My human needed to take a quick look at the area underneath the living room. The only problem was, it is next to the A/C unit, and the fan was running.
My human carefully walked down the steps with me to see how I'd react, and when I didn't seem too disturbed by the fan running, she gave me treats for sitting by it. She even shot some video of the fan blowing my fur. It looks really dramatic! But I don't think it makes much sense on its own.
The next part is really fun! I was walking near the bridge and I saw a tiny lizard! I chased it up the wall! My human has never had me pull on the leash like that before.
Because I'm not known for my hunting skills, my human was able to catch the lizard herself without any harm done. It was about the same size as the last lizard I found.
My human tried showing me the little lizard before letting it go on the other side of the wall. But I was already distracted by more interesting things, like birdies!
It was definitely one of my more fun days out.
* * *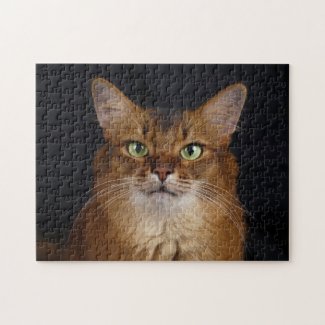 Somali Cat Photo Portrait Jigsaw Puzzle
See all of Summer's merch at her
her Zazzle Designercat Shop