How fun! I had a shopping day at the big chain pet store. It was sort of a last minute thing. I'm doing a social media post where we were supposed to get the items from a certain big store. A store that doesn't allow pets. But when my human went there, they had almost nothing of what my human was supposed to buy! So we had to get the items for the photo session at a different store (don't tell the brand!). Since my human had to make her purchases elsewhere, she figured why not go somewhere that she could take me? So here we are.
We stopped by the clothing section (as we always do), and while it still wasn't as awesome as it has been in years past, there were a couple of things my human picked up for me. One of them you won't see for a few weeks, as it is seasonal.
We spent some time browsing through the cat food aisle.
I heard there was a shortage of certain brands of cat food. But it doesn't involve what I eat… and most of the cat food aisles looked pretty full to me.
The only downside of this trip was it seemed like everyone brought their dog! So my human had to be extra watchful, and I only got to wander on my leash in the cat areas.
I still managed to have lots of fun! And it was really nice to get out. My human promises more adventures for me soon!
Other posts you'll enjoy:
* * *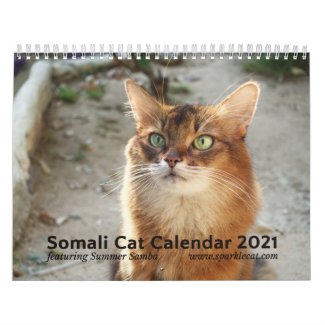 2021 Somali Cat Wall Calendar, Starring Summer
See all of Summer's merch at her
her Zazzle Designercat Shop