Remember the box I got about a week and a half ago? Well, I got another package yesterday morning, so I finally know who sent them both, and who my Secret Paws is (are)!
It's the kitties (and human) from Dash Kitten! Although the box came from Amazon, yesterday's package came all the way from New Zealand!
The presents in the package are for my human, so I am going to show them to you second, since I am sure you all are dying to know what was in the box!
Let's dig right in! Okay, I guess I seem to be the only one digging here….
I was a little too excited about the gifts to pose properly with them. Sorry.
I claimed the catnip banana even before my human removed the packaging! The Orijen cat treats are also favorites of ours. Binga and Boodie are lucky — they get treats for no reason. I usually have to work for them.
Now, let's see what my human got!
The gift bag contained a box that has a sentiment my human totally relates to.
The black box contained this pretty pendant and necklace, and the long box had a sweet, silver toned bracelet, which fits my human's wrist perfectly. My human loves them both! Thank you so much, Dash Kitten kitties and human! We adore our Secret Paws gifts lots!
* * *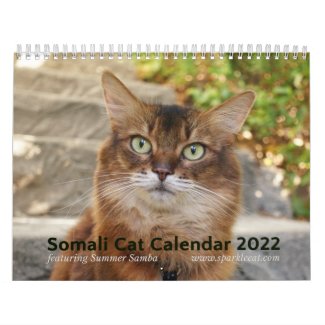 2022 Somali Cat Calendar Starring Summer Samba
See all of Summer's merch at her
her Zazzle Designercat Shop