My Secret Paws gifts arrived Christmas Eve, so I got to open them up on Christmas morning! Of course, I was excited… so you are probably wondering why I am looking so grouchy.
Here's your answer. The shipping box wasn't even open yet and she was already getting in the way.
All the presents were neatly and individually wrapped! They did an awesome job of making everything look awesome and festive!
The first gift we opened was a Kitty Kick Stix! We love these!
Right about then, I realized that Binga was going to constantly be in the way, and I had to do something or the photo shoot would never get finished. So I distracted her with some catnip-infused wrapping paper.
Meanwhile, I got to check out this bunch of fun, little toys! I love playing with these little toys especially.
And catnip mice like these too! I also got a bigger mouse and a Yeowww! tomato, but I was so excited my human couldn't get any photos.
We even got a container of catnip — that should last us a while, as long as my human doesn't let Binga know where she is hiding it.
Oh! And this cute fish toy too! I don't know how they managed to fit so many toys into that box!
Plus we got treats! I can't wait to dig into these! And, um, neither can Binga.
And my human got a couple of cool gifts too — this dark, dark bar of chocolate (she likes very dark chocolate). And something she's always wanted — wine glass charms! These, of course, are cat charms.
So you are probably wondering… just who gave us all these really amazing gifts this year?
They are from The Island Cats! Which is really cool, because they are busy moving right now, and they still managed to find the time to participate in the Secret Paws that we blogging cats have every year. And do a great job of finding and wrapping gifts too! Thanks so much, guys!
They included this note with the package, and there was a "pee ess" from Wally: "I licked one of your presents. I hope you don't mind." Which of these presents do you think Wally licked? Maybe if one of you guesses right, he'll 'fess up!
* * *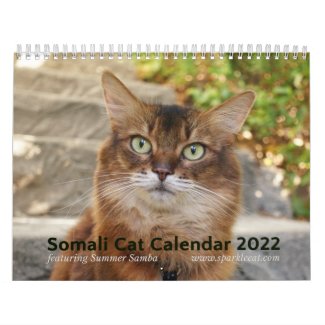 2022 Somali Cat Calendar Starring Summer Samba
See all of Summer's merch at her
her Zazzle Designercat Shop