This year is the first time I've participated in Secret Paws. My human says it's kind of like the Secret Santa thing some humans do at their work, except with Secret Santas, humans usually get some sort of "useless junk" (so says my human), whereas with Secret Paws, kitties get really cool, fun stuff.
I picked out special things that I'm pretty sure my Secret Paws partner will like. (The salmon flavor of Temptations is new.
I hope that's okay — they look really yummy!) Funny thing is, I think he barely knows me and probably won't be seeing this blog until after he gets his presents. I can't reveal his name, of course, because I don't want to risk ruining the surprise!
Since my human got so much stuff at the Cat Writers Conference, she said I should probably give my Secret Paw something extra from our big collection of swag. She told me to pick out one item.
The only problem is there was a misunderstanding! I picked out the item I wanted to keep and my human thought I wanted to give it!
Darn. I was really looking forward to playing with that Kong catnip mouse toy.
So was Boodie. I think she is a little mad at me now.
But as long as it's going to a nice kitty, I guess it's okay. I added a card with a holiday greeting and my pawtograph. Happy holidays to my Secret Paw!
* * *
---
---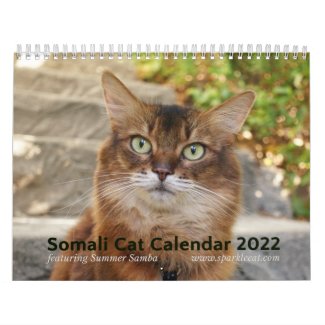 2022 Somali Cat Calendar Starring Summer Samba
See all of Summer's merch at her
her Zazzle Designercat Shop