The first month of 2022 is coming to a close, so I'm looking back at another January. One not so long ago time-wise, but that now seems like several lifetimes in the past! And it kind of was. I'm talking about January 2020, when nobody realized that in a matter of weeks, the whole world was going to shut down! There I was, ready to go out in the world, headed for more adventures than ever before!
Instead I was stuck at home for the better part of the year, except for occasional visits to pet stores. In fact, I didn't get to have an overnight trip again until my human took me to her boyfriend's desert house in December, 2021!
And those pet store visits? If I'd known what was going to happen, I'd have spent more time browsing and visiting while I was shopping. Here is one of the last times I had a normal trip to this particular store for a long time. It's such a tiny shop that when things were really closed down, only one shopper was allowed inside at a time. Everybody else had to wait in line outside for their turn.
I was convinced I'd get to travel to a climate where I could wear this cute, puffy pink jacket! Except for once on a cold cat show hall morning, it's been hanging on my clothes rack since this modeling session.
I appeared at two cat shows in January and one in February before they halted altogether for the year. One (the one you see above) came back a couple of weeks ago.
The San Diego cat show still isn't back yet. It is one of my favorite shows, and 2020 was the last time I went! It's supposed to be back in 2023, and I am crossing my paws!
Do you have any fond memories of the weeks just before 2020's lockdown? Let me know in the comments.
Other posts you'll enjoy:
* * *
---
---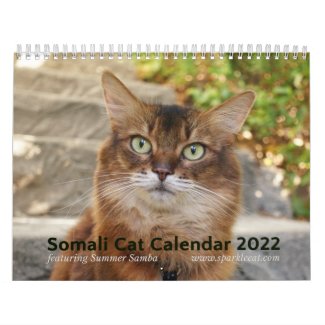 2022 Somali Cat Calendar Starring Summer Samba
See all of Summer's merch at her
her Zazzle Designercat Shop