This was my second year at the San Diego Cat Show. Last year, I attained Grand Premier status there. This year, instead of running back and forth to judging rings, I was a Pet Me Cat. Since the cats who are competing can't be handled by the public, and their humans are too busy to answer a lot of questions about their breeds, the Pet Me Cats and their humans are there to do all that.
It's not required that a Pet Me cat have a breed booth but my human set one up anyway, and used some photos from my breeder, and the breeder who has BJ, the blue Somali that I sometimes compete against at shows.
My human brought the sign she made for me for BlogPaws and my breeder brought a table for me to greet my public.
There was also an official "Pet Me Cat" sign I got to have for the weekend.
Although I had lots of fun meeting people at the cat show, it took a lot of energy! Plus I didn't have much privacy. Whenever I wanted to redo my groom, it seemed like someone was pointing a camera at me!
If I was too hyper (like I was on Sunday morning after a good night's sleep), my human put a dress on me. Wearing a dress calms me down and I actually enjoy it. I also got to go on a brief walk on my leash and that was lots of fun! After that, I was really excited to meet more people! My human says next time we do this, I'm going for a walk again because it made me so cheerful.
The only downside about the weekend was the area I was benched faced a big bunch of cat trees — and I wasn't allowed to climb any of them! My human said there wasn't room in her Mini Cooper to take one home.
Lots of people took photos, but so far I haven't been able to find any on Instagram or Facebook. When I do, I'll repost them!
While I was meeting and greeting, my half-brother Chilly was competing. It was a huge show, with a bunch of cats in his class. Our breeder didn't think he would do much, as far as finals, and he needed a bunch of points to get his Grand Champion status. Intact cats like him are Champions and they need 200 points to Grand, while neutered and spayed cats like me are Premiers, and we only need 75. But he started charming the judges.
He actually put his head in this judge's hand, just like that, when got a final in his ring!
And this wasn't the only judge who liked Chilly — three others did too… and he got enough points to Grand and then some! Isn't that exciting? Here he is posing with the ribbons that earned him the final points he needed. So he Granded at the very same show I did last year. We both had a great weekend!
Although by the end, I was ready to go home to my own bed!
* * *
---
---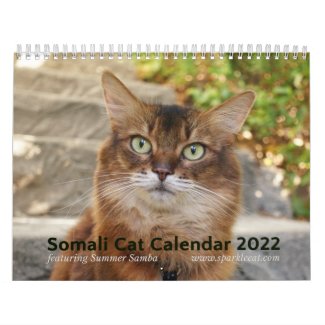 2022 Somali Cat Calendar Starring Summer Samba
See all of Summer's merch at her
her Zazzle Designercat Shop