When the email request came in for photos for the CFA Southwest Awards, to my human's (and my) dismay, they requested 4×6 horizontally oriented photos… and we don't have any! The ones we liked from the pro photo shoot were oriented vertically, and no amount of Photoshop was going to make them into the format requested (although my human tried). Since there is no other option right now, my human is having to come up with something on her own. She set up a background and lights in the living room. She even had a stand in for me while she was adjusting the lighting.
The only problem was, I did not want to cooperate! I thought it would be more fun to run around and have my human chase me up and down the stairs about five or six times instead of letting her groom me. I actually had a good time, even if she didn't. Finally, when I realized she would give me treats for staying still, I calmed down and let her mess with me and put me on the set.
Well, I mostly cooperated, but my tail wouldn't. It kept disappearing. Or waving around and looking blurry. My human kept fooling around with my tail and pulling it into the shot… and it kept leaving! Honest, it wasn't my fault. Kitty tails have minds of their own.
Then, when I started posing better, there was another problem — the photos kept coming out slightly out of focus! Probably because my human was trying to do so many things at once, fixing my fur, fiddling with my tail and moving around. The photos looked okay in the camera, but once she got them on the computer, they were just fuzzy enough to make her crazy.
And then something even more problematic happened — she ran out of space on the photo card! She kept deleting the bad photos at the end to make space to try more photos because she was desperate. Finally she gave up for the night and will have to run out to get a new photo card tomorrow morning. So I guess I am not done yet!
* * *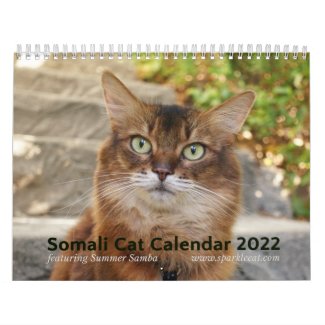 2022 Somali Cat Calendar Starring Summer Samba
See all of Summer's merch at her
her Zazzle Designercat Shop