I have a new tiny hat! Actually, my human has had it for a long time — it was attached to a hair clip she found at the party store or something. She just needed to remove it from the clip and add the chin strap. She finally got around to doing it.
Here it is on! It's just the right size, don't you think?
Here is a closer look. I think it is a perfect cat hat. I'm glad my human rescued it from that hair clip.
But of course, I can't just wear the hat and nothing else. I mean, humans never wear hats naked, do they? So I don't either. My human picked out the dresses she thought would go the best with my new hat. So let's see.
I tried it on with my kitty French-themed harness (which I never use as a harness).
Here it is with my little black dress. (It literally says "Little Black Dress" on the back.)
And here I am wearing my cute party dress! My human was worried that the pink on the hat band was too different from the pink sash on the dress, but I think they go together really nicely!
So what do you think? Do you have a favorite ensemble out of the three? If you do, let me know in the comments.
Other posts you'll enjoy:
* * *
---
---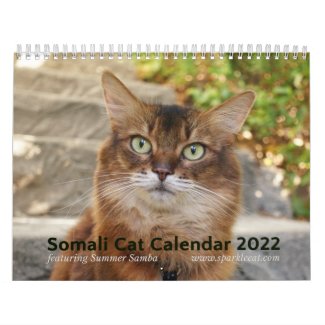 2022 Somali Cat Calendar Starring Summer Samba
See all of Summer's merch at her
her Zazzle Designercat Shop