Look at what my human found during one of her visits to Party City — a selfie station sign! She knew I had to have it because I'll be using it for cat shows and personal appearances. Plus my breeder frequently picks up selfie props for people to use when they photograph themselves with me. So I will be getting lots of mileage out of it.
In fact, my human pulled some random selfie props off a shelf so I could have a test run.
The only problem? It's the humans who are supposed to use the props, not me, so I wasn't sure what to do with them.
I was either rubbing up against them or trying to touch them with my paw.
Occassionally I'd get bored and let my human get a photo in.
The only time where I really posed well was with this one. Figures.
No matter. I love my new selfie station, and I can't wait to use it!
Other posts you'll enjoy:
* * *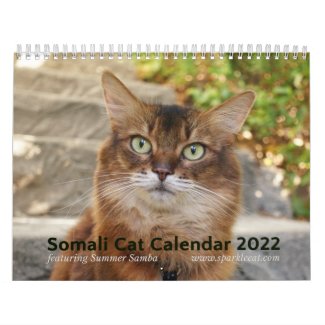 2022 Somali Cat Calendar Starring Summer Samba
See all of Summer's merch at her
her Zazzle Designercat Shop